Windshield Replacement Near Me: Use myWindshield
If I was looking for windshield replacement near me, I would want to know the following about the service provider:
How long have they been in the windshield replacement business?
Do they offer a warranty on their work, and if so, for how long and what does it cover?
What type of glass do they use, and are these materials of high quality and industry-standard?
Do they offer mobile services, where they come to your location to perform the replacement?
How quickly can they complete the replacement, and is there a wait time for scheduling?
What's the estimated cost, and does it include any hidden fees or charges?
If you need your car windshield replaced, we have the ideal solution – ask for a free, no-obligation quote for a high-quality auto glass replacement service through myWindshield.
Why listen to us?
myWindshield is your one-stop platform for finding the best auto glass replacement service near you. Our website connects you with over 300 qualified mobile technicians and auto glass shops across the USA. Learn more about our expertise.
Table of contents:
We are one of the top windshield replacement networks operating across the US, with over 300 mobile technicians and auto glass shops covering all the states.
Our network makes it easy to find the best local deal, because all the information is available in one place.
Don't bother with searching the Internet for 'windshield replacement near me' or phoning around to find the best quote to replace your smashed windshield.
Using this website, you will find it both quick and easy to get details of the network members whose services cover your location.
There is certain to be one or more of our partners operating nearby, and they will be able to come along to repair your windshield without making you wait for too long.
Our auto glass technicians are all skilled windshield specialists, and they are simply on-call, ready and waiting to come along to you at your office, your home or the roadside to help you.
We established the myWindshield network to offer great value for money automotive glass services, combined with high levels of workmanship, accessible to all motorists.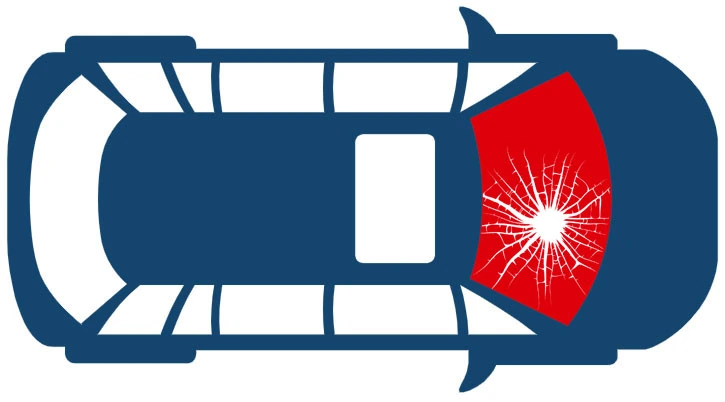 Windshield replacement near me: Finding the best local service
Local auto glass shop or mobile service
Your convenience is our priority, so our partners offer a choice of windshield replacement services.
If you are stranded at the roadside with a shattered windshield, or stuck at the office or at home, you may wish to call out one of our mobile technicians.
They will come along in a fully-equipped vehicle (usually complete with an awning to keep out the weather), remove the old glass, and fit a new, high-quality windshield.
Removal of the old glass, and fitting of the new windshield will usually take between one to two hours, plus adhesive curing time.
Curing times will vary depending upon windshield type, adhesive type and atmospheric conditions – the technician will advise on timings.
Once cured, you can safely drive your vehicle away.
If the weather is particularly cold or wet, it may be advisable to take your vehicle to one of the auto glass shops near you, where the technicians will perform the self-same removal and refitting, while you wait in comfort for the job to be completed.
Should I repair or should I replace my windshield?
Your windshield is a major contributor to the structural strength of your vehicle – on average, it shoulders one third of the load, so you need to keep it in good condition for your own and your passengers' safety.
A cracked windshield is dangerous – as well as losing structural integrity, it affects your ability to see your surroundings, and to react to changes in road and traffic conditions.
A rock chip or a small crack which is outside any critical areas (i.e. usually outside the field of view) can often be repaired – the glass technician can give you an expert assessment of the possibility of a windshield repair.
In general, a badly cracked or smashed windshield needs to be replaced, and the work needs to be done without delay.
If you have auto glass cover on your vehicle insurance, the cost of a windshield replacement will be included, but be aware that this may affect your deductible (or excess) – it all depends on the type of plan you have, so it's a good idea to check.
The good news is that you cannot be forced to go to any windshield technician service, it will usually be your own choice – this means that you can opt to use a skilled technician via myWindshield, confident that they will carry out a high-quality job.
Most of the auto glass shops and mobile technicians are also able to liaise directly with your insurance company, and will do any necessary paperwork for you, saving you the time and trouble.
It's really not worth skimping on the quality of a replacement windshield to save a few dollars, or searching around for the cheapest possible job.
A poor quality or poorly-fitted windshield can cause all kinds of problems in the future – stress cracks and leaks can occur, and water damage can cause corrosion to the surrounding frame and other bodywork.
You can trust the quality of the materials and workmanship used by all the technicians featured on myWindshield, and because they are highly skilled professionals, they will make replacing your damaged or broken windshield look easy.
How is a windshield replaced?
Auto glass replacement is a bit more involved than a windshield repair.
The first job is for the technician to remove the old glass.
If the windshield is intact, it is a fairly simple matter of cutting the glass out of the windshield cavity, and removing it. If the glass has been shattered, the clean-up operation will take a little longer as every bit of old glass needs to be removed to leave a clean surface to work with.
Once the glass is removed, the technician can clear away any unwanted old adhesive (urethane), and check the condition of the metalwork surrounding the windshield cavity.
This area is known as a pinch-weld (it is an area where two or more sheets of metal are pinch-welded together during vehicle construction).
The check is done to ensure there is no damage or corrosion (rust) present.
If corrosion is present, perhaps due to a previously poorly fitted windshield, it will need to be removed, and the metal surface prepared for the new windshield.
Dealing with damage or corrosion in the pinch-weld area can add time (and cost) to the windshield replacement process, which is why it is so important to get a good quality windshield fitted by a skilled technician in the first place.
Once the windshield cavity has been cleaned and primed, the new windshield is prepared for fitting.
The glass is primed and has a continuous bead of urethane (adhesive) applied around the perimeter.
The treated glass is then carefully fitted into the windshield frame.
At this point, great care is taken to achieve a good seal (no air bubbles), and also to ensure that the urethane doesn't get onto the bodywork, the glass or the pinch-weld, where it will be unsightly.
Any moldings or trims that were removed prior to fitting the new windshield will be replaced, and at this point, a leak test is usually carried out, plus the technician will ensure that all electronics and sensors are working correctly.
A windshield is a hi-tech component
Your windshield is a critical part of the safety system of your vehicle, it does so much more than just keep dust rain and wind out of your eyes.
Carefully designed and molded to match the aerodynamic contours of your vehicle, the shape and smooth outline gives improvements in gas mileage and acceleration performance.
It's hard to imagine that such a hi-tech piece of equipment was once a simple flat pane of window glass - it's come such a long way from the early days of motoring.
Today's windshields are strong composites of toughened glass and polymer, and the polymer layer enables tints and coatings to be applied which can keep out harmful UV rays (protecting you and the upholstery), and deflect excess heat, improving the efficiency of your air-con system.
Vehicle designers have long been viewing the windshield as an ideal place to house sensors for improved vehicle safety and advancing towards total autonomy.
They are also starting to build in aerospace technology, such as heads-up displays and 360-degree viewing via cameras, to give the driver full awareness of road and traffic conditions.
New technological advances seem to be announced every week.
Your windshield deserves the best of care, just like all the other critical components in your vehicle.
However, despite all the advances in tech, it is still a piece of glass, and therefore liable to suffer damage such as chips, scratches and cracks during daily use on the roads.
Windshield replacement: Frequently asked questions
Do I need to replace my windshield if it has a chip in it?
Not necessarily.
Depending on the size of the chip, its location, and the severity of the damage, it can often be repaired at a far lower cost than having the whole windshield replaced.
Some chips in the windshield, however, require complete replacement.
Ask a qualified auto glass technician about your options.
How long does it take to replace a windshield?
It depends.
Generally, it should take around 1-2 hours for a qualified auto glass technician to replace a windshield. For some makes and models, it may take longer.
If the auto glass is not in stock and must be ordered, you may also have to wait for the windshield to be supplied.
How long does a new windshield last?
A new windshield can last for many years if it is cared for and maintained well.
Usually, windshields need to be repaired or replaced after suffering damage or from prolonged exposure to extreme temperatures.
Can I drive my car immediately after the windshield is replaced?
No, you should ask your auto glass technician how long it is appropriate to wait after the windshield has been replaced.
Generally, the adhesive used when fitting a windshield can safely cure in around an hour after being applied.
Will my car insurance cover the cost of windshield replacement?
It depends on your insurance policy and your deductible.
Most auto insurance providers will cover the cost of windshield replacement, so check your insurance policy first.
If possible and safe to do so, consider having your windshield repaired rather than replaced completely.
Can I choose where to get my windshield replaced?
Yes. Most insurance providers have preferred auto glass companies but will generally accept customers getting their windshields replaced elsewhere.
So long as you're choosing a professional auto glass technician, you should be able to make a claim in part or in whole for windshield replacement.
Finding the best windshield replacement service: Use myWindshield
Is your windshield chipped or cracked? We can repair or replace your windshield in no time at all.